Gracilia Award A-Line Medium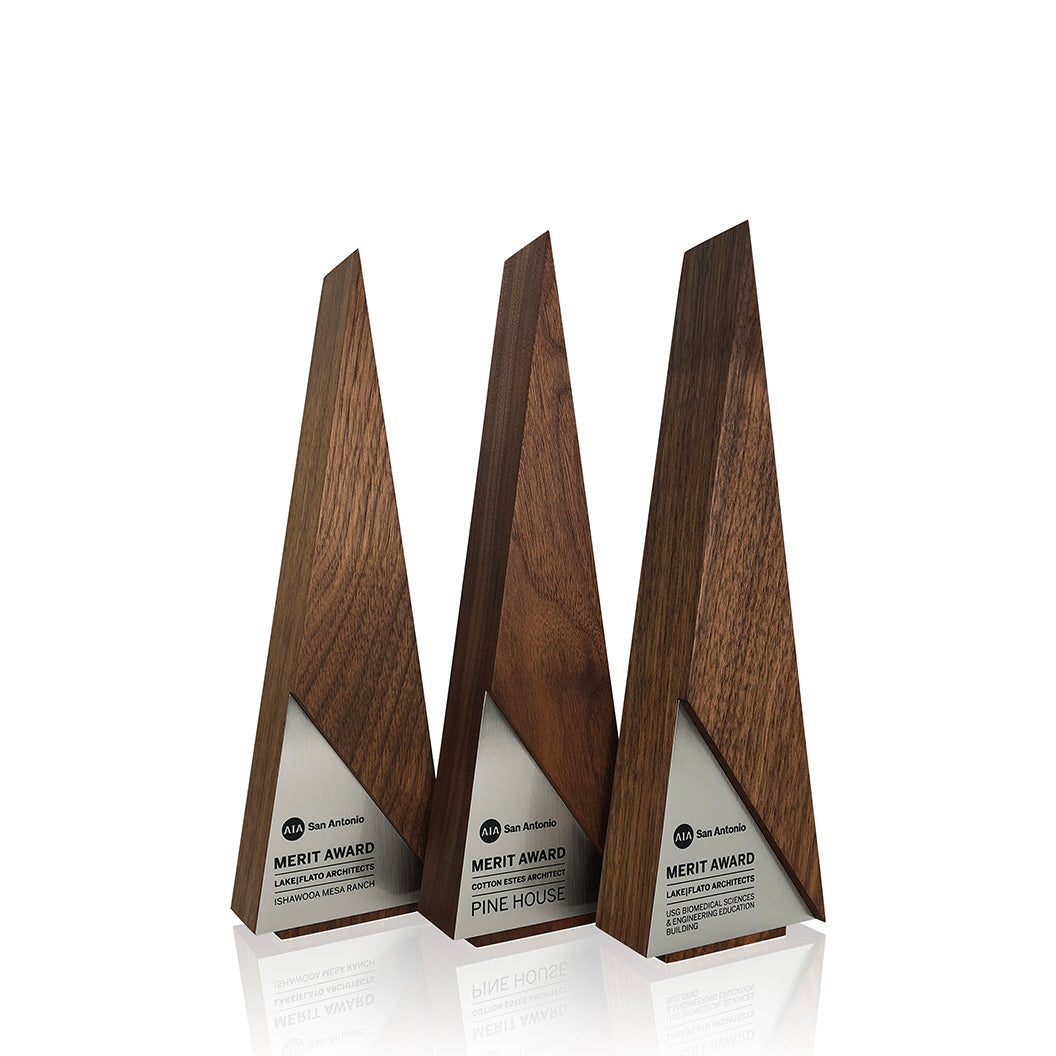 Inspired by high fashion, our Gracilia award collection celebrates classic design and enduring craftsmanship. Similar to Trophyology's approach, haute couture requires a rigorous and conceptual design process followed by meticulous and exacting construction. 
Just as the attire for each event or ceremony is carefully selected to proclaim personality, each Gracilia trophy design is an opportunity to reflect a distinct character. As fashion designer Rachel Zoe remarked, "Style is a way to say who you are without having to speak." Gracilia awards speak on your behalf without needing words. 
Gracilia is the first luxury trophy design that can be styled and personalized in over 100 ways -- four unique faces, ten nameplates, four wood varieties, and three sizes. The expansive number of potential combinations is intended to offer you a level of customization that celebrates refined and intentional individual recognition style. Gracilia's iconic shape is the perfect base to personalize with unique accessories. Explore the possibilities in our lookbook.
Gracilia awards are ideal for corporate employee recognition celebrations, staff and work trophies, donor appreciation gifts, executive recognition, as well as deal toys and tombstones for the financial, real estate, and legal sectors.
NAMEPLATE SHAPES:
WOOD SPECIES:
Walnut (dark brown)

Maple (light blonde)

Ebony (black stained)

Indigo (navy blue stained)
NAMEPLATE MATERIALS:
Brass (gold)

Nickel (silver)

Copper (bronze)

Colored aluminum

Colored acrylic

Indigo

Fuchsia

Turquoise 

Beige
ENGRAVING:
Dark lettering on brass, nickel, copper

Silver/grey lettering on white, black aluminum

White lettering on indigo, fuchsia, turquoise, beige acrylic 
DIMENSIONS: 
Large: ~ 4" x 13.4" x 2" (available with all nameplate shapes)

Medium: ~ 3.5" x 11.5" x 1.75" (only available in A-Line nameplate shape)

Small: ~ 3.3" x 10" x 1.75" (only available in A-Line nameplate shape)