The Perfect Custom Wooden Box: Meta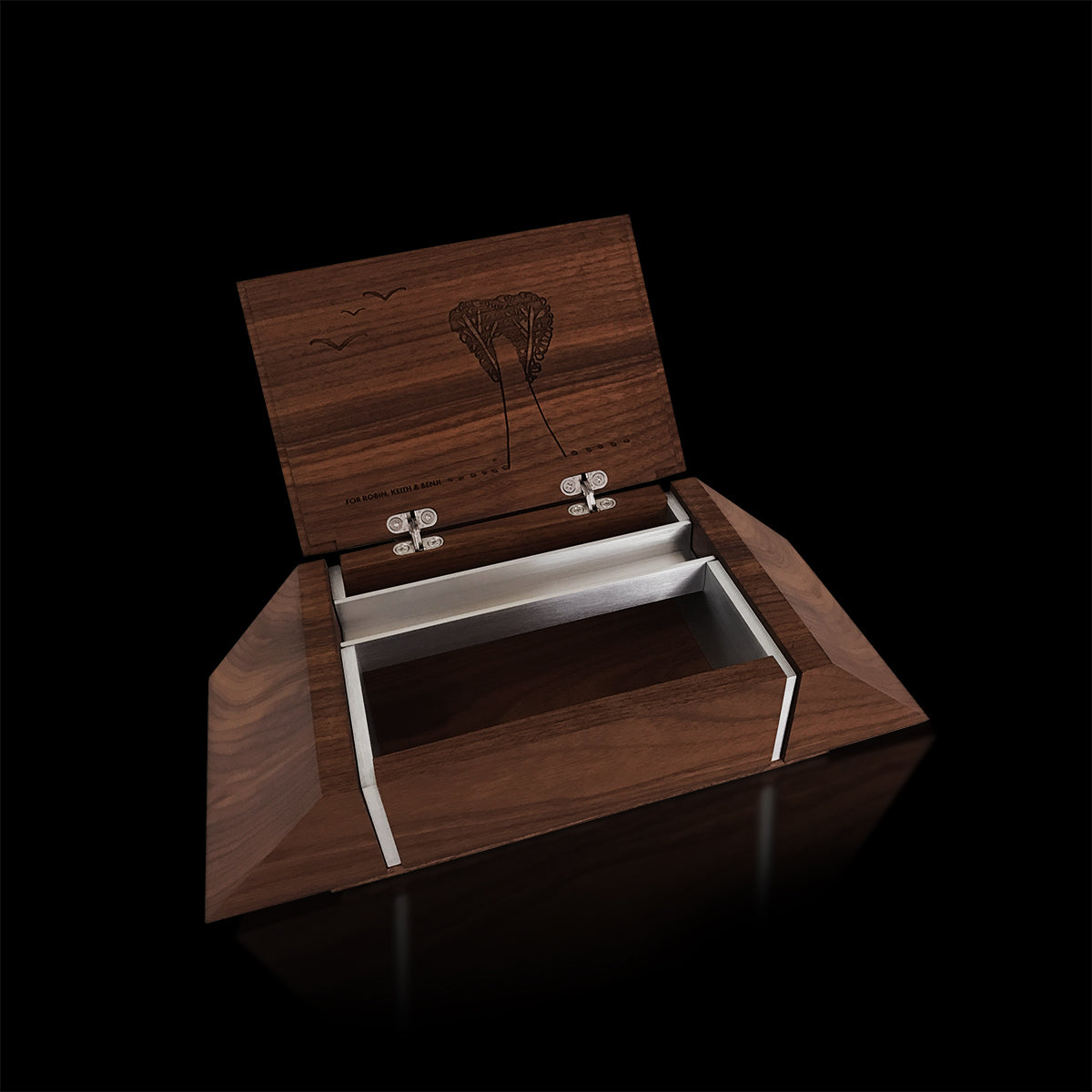 Who doesn't cherish a handwritten note? 
Thoughtful sentiments penned by hand have never gone out of style and are valued by younger and older generations alike. 
Keep a favorite stationery at hand in an impressive display of fine artisanal craftsmanship. Designed from a single solid block of 16/4 walnut, the Perfect custom wood box Meta is grain-matched top to bottom - The lid and sloping sides of the box display the gorgeous wood grain beautifully. Finely finished aluminum accents complement the richness of the walnut and the removable pen tray is a special feature that lends additional functionality to the box. 
We offer the box in two sizes: one fitted for A2 stationery and one for A10 stationery - both formats are appropriate to give a personal touch to professional correspondence. 
Every face of letter box Meta is customizable with personalized laser engraving to perfectly match the personality of your honoree, the sentiments you wish to express, as well as the character of your brand.
Wooden box Meta is an heirloom-quality custom wood box that will surely be cherished for many years to come. In the realm of corporate recognition, keepsake box Meta is an ideal selection to commemorate years of dedicated corporate service, to bestow executive recognition, to celebrate retirement, and to appreciate donors and clients alike with a sophisticated and meaningful gift. 
In the realm of personal milestone celebrations such as weddings and graduations, wooden box Meta is an impressive and meaningful graduation gift as well as a perfect personalized gift for bridesmaids, groomsmen, and parents of the bride and groom.
MATERIALS
ENGRAVING:
Engraving on wood
Engraving on metal
DIMENSIONS: ~ L14"x W6" x H2.0"