Figura Award Trapezium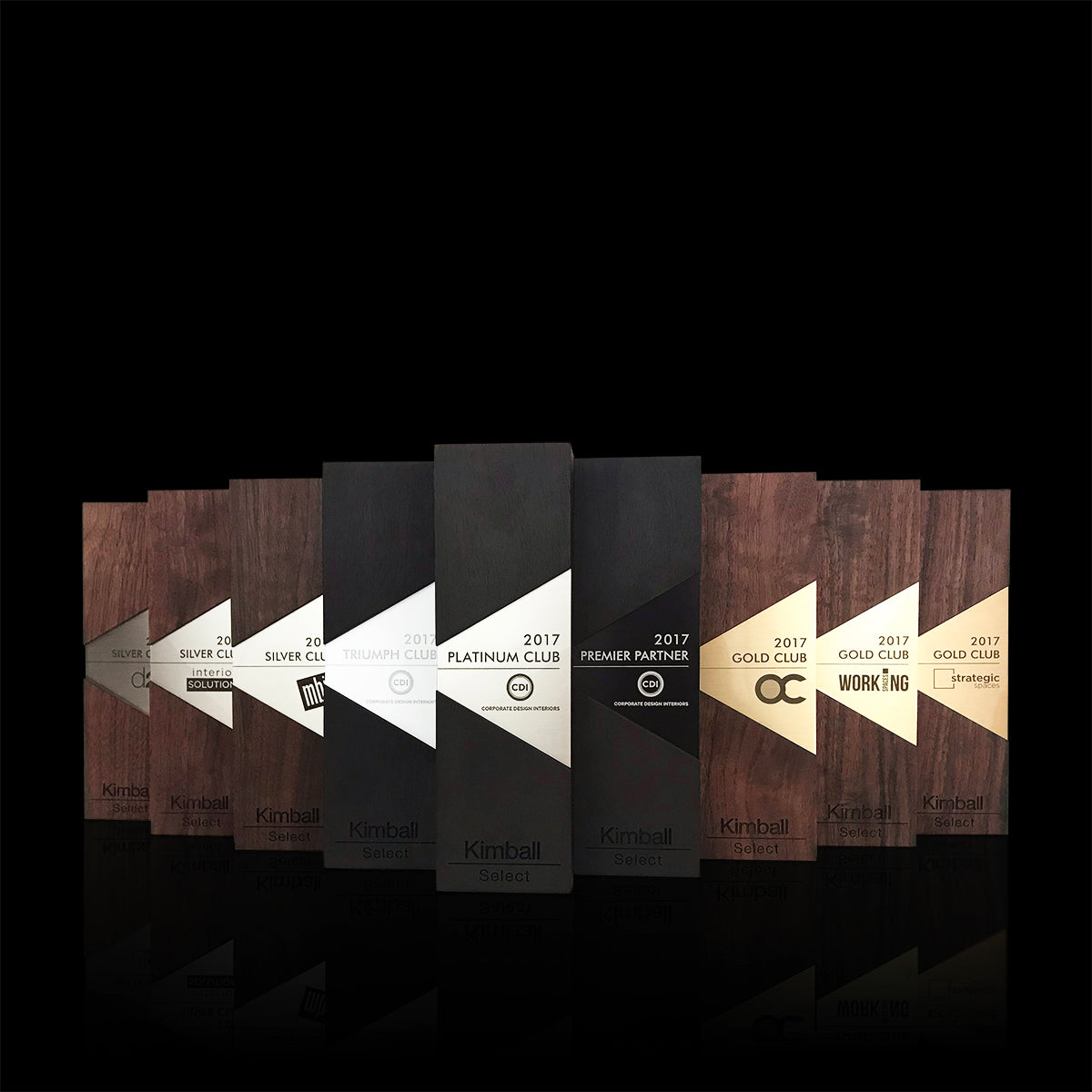 Designed to be a simplified continuation of our popular Geometria collection, our elegant award and plaque collection Figura wins with unique, minimalist geometric shapes and attractive wood and metal material combinations.  
Figura trophies and plaques were specifically designed to meet budgets in style and leave a lasting impression.
Several of the unique trophy shapes can be grouped together to honor different recognition levels and create an award suite. Alternatively, any singular shape can be paired with various metal nameplates to create a recognition hierarchy of gold (brass), silver (nickel), and bronze (copper). The same trophy shape can also be created in a variety of wood finishes. Figura gives you a multitude of options of how to honor your best. 
All nine trophy and plaque designs can be personalized with custom laser engraving. All Figura plaques are designed to both hang on the wall and be freestanding.
The Figura collection is ideal as corporate employee recognition awards, honoree trophies, donor appreciation gifts, executive gifts, as well as deal toys and tombstones for the financial and legal sectors.
+ + + 
Figura Trapezium is in a class of its own with its dynamic and striking metal nameplate elegantly recessed into the tall solid wood shape, embodying the architecture of recognition. This beloved wooden trophy takes a modern approach to recognition. Expertly crafted from solid walnut or maple, award Trapezium sets a new standard of recognition with naturally beautiful wood grain as unique as your honorees.
WOOD SPECIES:
walnut
maple
ebony (black stain)
reclaimed
NAMEPLATE MATERIALS:
nickel
brass
copper
white
black
ENGRAVING:
dark lettering on brass, nickel, copper
silver/grey lettering on white, black
DIMENSIONS: ~ 3" x 10" x 1.75"