Trophy Stela Square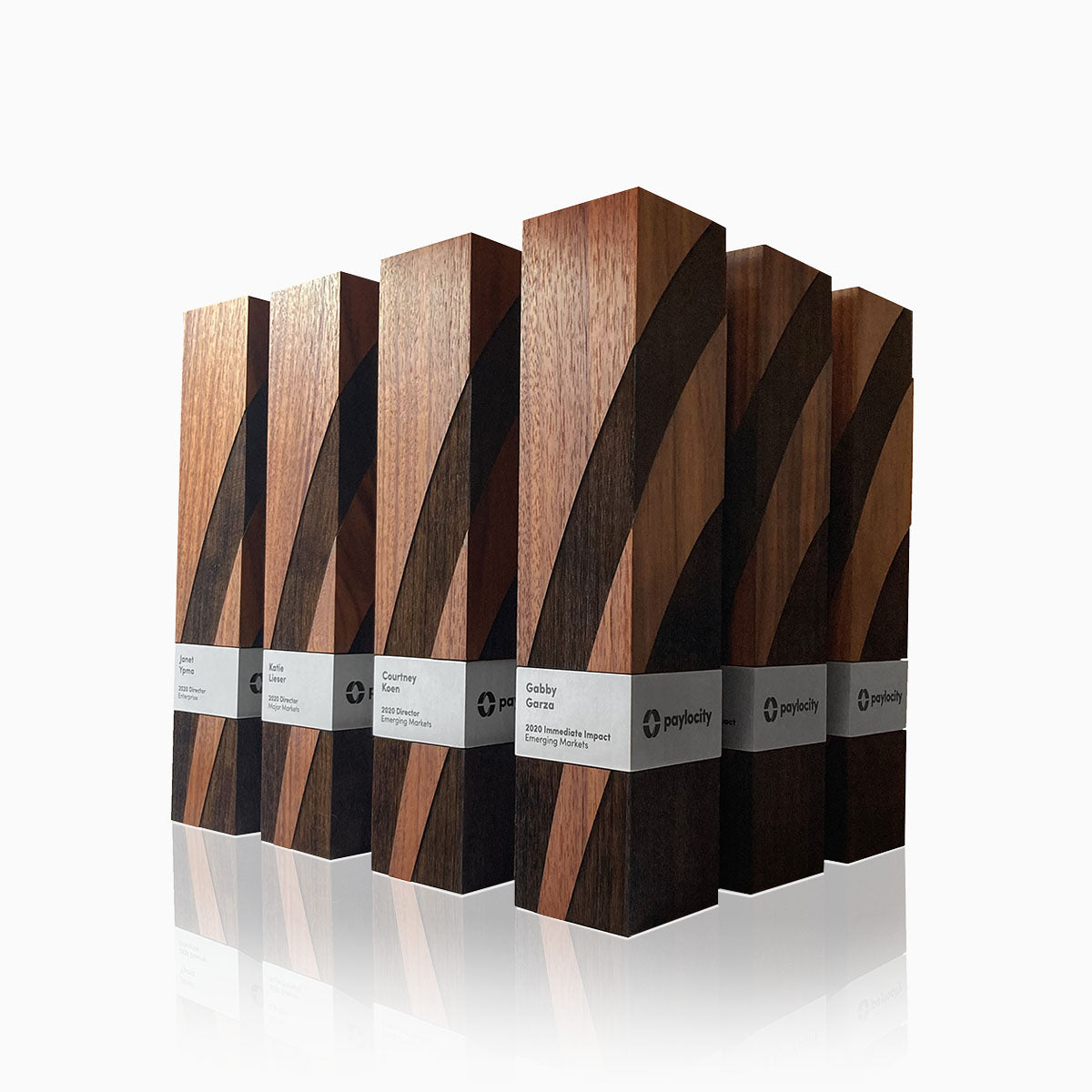 The classic vertical shape and minimalist detailing of our Stela Square award impresses with simplicity and clarity. 
The walnut or ebony wood body is paired with a brushed aluminum ribbon which is customized and personalized for your honoree, highlighting the special achievement as well as your brand.  
The finely finished metal sleeves can be installed toward the top or the bottom of the awards, giving you the flexibility to create multiple recognition levels. You can select from a thinner or taller metal sleeve. We also offer this design in multiple heights to assist you in building cohesive award and recognition suites for your organization and occasions.    
With its square footprint, Stela Square is a particularly good choice for organizations with square logos – we can engrave your logo(s) and information into the wood on top of the award and/or on the faces of the wood column for maximum visual effect. 
Trophy Stela Square is an ideal selection for multiple levels in executive and corporate recognition, employee appreciation, client gifts, and years of service awards. We also personalize Stela Squares as deal toys/mementos and tombstones for the financial and legal sectors.
WOOD SPECIES:
Walnut (dark brown)

Ebony (black stained)
NAMEPLATE MATERIALS:
Brass (gold)

Aluminum (silver)
ENGRAVING:
DIMENSIONS:
Large: ~ 2.5"W x 2.5"L x 11.5"T (available with 1.5" and 2" ring)

Medium: ~ 2.5"W x 2.5"L x 9"T (available with 1.5" ring)

Small: ~ 2.5"W x 2.5"L x 6.5"T (available with 1.5" ring)